Dissatisfied with the Redistricting Committee plan? Your public comments here!
By Anonymous - 11/8/11 - 2:19 pm
As a resident of Boston for twenty-eight years, I've had Stephen Lynch as my representative in Congress for ten. During that time:
He neither supported nor opposed the Affordable Care Act for over a year until the final hour when he joined Rep. Bart Stupak of the anti-choice caucus to offer his vote in return for including anti-choice legislation in the health care bill. This, when federal law, the Hyde Amendment, already prohibited the use of federal funds for abortions.
He voted against the American Recovery and Reinvestment Act of 2009, which saved or created over a million jobs, many of them in our communities that kept cops, firemen and teachers on the job (and in their homes); their kids in college, and helped drive consumer demand in a recovering economy.
He voted to invade Iraq based on a specious argument that Iraq was behind 9/11, and other fraudulent intelligence. My friend died in Tikrit, survived by her son and husband. My neighbor died in the same engagement. Over 4,483 Americans died in the war, the most recent last Friday, Nov 4 2011. Lancet says there were 601,027 violent deaths in Iraq due to the US invasion. The US had no valid cause of action in Iraq. My representative acted in good faith in voting to invade Iraq. It is just as clear he was not up to the task of evaluating the case for war.
These are the three clearest examples I can think of as to why Rep. Stephen Lynch does not represent me effectively in US Congress.
I have good reasons to believe that his position as an incumbent will enable him to continue to be elected in the new MA8 district as long as he runs.
THEREFORE, I hereby petition State Sen. Stanley C. Rosenberg, Senate Chair, and Rep. Michael Mora, House Chair, of the Special Joint Committee on Redistricting to take West Roxbury out of the new MA8 district and instead, put it in the abutting new MA4 with incumbent Rep. Barney Frank, or the new MA7 with incumbent Rep. Mike Capuano.
Take West Roxbury out of new MA8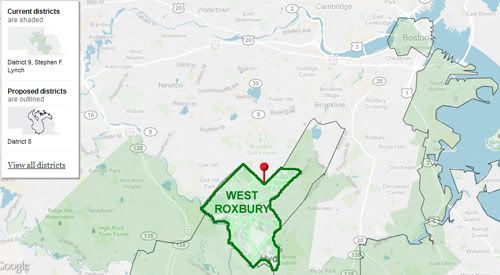 Put West Roxbury in new MA4 or new MA7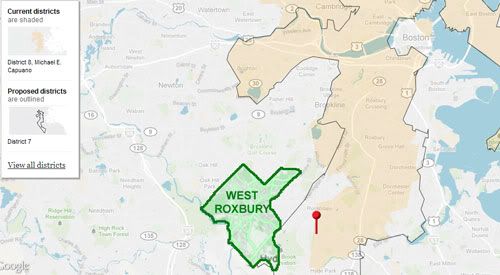 If you live in West Roxbury or adjoining neighborhoods and you want out of new MA8 with incumbent Rep. Stephen Lynch, please put a comment below and include sufficient information about where you live so that the redistricting committee can consider your request. I will submit this post to the Special Joint Committee on Redistricting in a few days.