Boycott Sponsors of The Apprentice on NBC until Donald Trump is fired: Obama is American
By Anonymous - 4/28/11 - 1:06 pm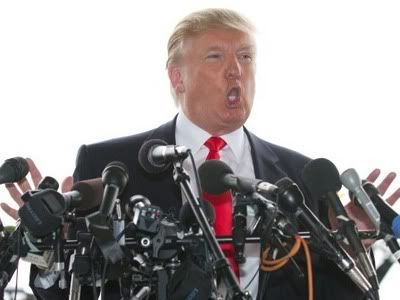 Donald Trump's racist birther accusations have been debunked, again, the White House has released the president's "long form" birth certificate.
As the president said, "We do not have time for this kind of silliness." Thank you, Mr. President, for being, once again, the adult in this national conversation.
As Think Progress reports, "acclaimed historian and author Douglas Brinkley pinned the blame for the reemergence of birtherism on NBC Entertainment for giving real estate mogul Donald Trump a primetime platform."
Brinkley also calls for what seems to be an appropriate response, to boycott NBC and the sponsors of Celebrity Apprentice until The Donald is fired. Giving a "primetime platform" (and paying him at the same time) to Trump is unacceptable.
Change.org has a petition you can sign here, or you can click here to sign by Twitter.
Tell NBC: I'm boycotting @ApprenticeNBC SPONSORS and @NBC until Trump is fired. #ObamaIsAmerican #p2 http://act.ly/3j3 RT to sign
To express your concerns about Trump's continued support by NBC, you can contact them here:
NBC 1-212-664-4444
NBC Entertainment:
Rebecca Marks, Executive Vice President, Publicity
818-777-3030

This petition targets the major sponsors and supporters of Celebrity Apprentice:
CEO, Enterprise Rental Car Company(Andrew C. Taylor)
The Walt Disney Company(Robert Iger)
The Clorox Company(Donald R. Knauss)
Director, Business Communications, Bristol-Myers Squibb(Laura Hortas)
CEO, Groupon Inc.(Andrew Mason)
Executive VP, Publicity, NBC Entertainment(Rebecca Market)
CEO, Sprint-Nextel Wireless(Dan Hesse)
I'm boycotting NBC and @ApprenticeNBC sponsors until Trump hears, "You're Fired."