By Anonymous

[2]

on Tue, 02/19/2013 - 12:38pm
bostinno [3]:
A month after former U.S. Senator Scott Brown sent out a series of odd tweets from his official social media account, the Fox News commentator finally addressed questions behind a jumbled message—and he blamed it on accidental "pocket tweeting."
myfoxboston video [4]:
Boston News, Weather, Sports | FOX 25 | MyFoxBoston [5]
You can't pocket tweet Scott Brown! That's not how twitter, or the iPhone, or technology works! #Fox25 [6] #MaPoli [7]

— Nick Pizzolato (@nickpizz) February 19, 2013 [8]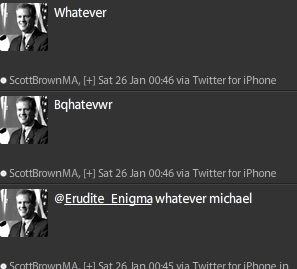 Did Scott Brown say #bqhatevwr [9] was a typo? No he didn't. He said it happened involuntarily with his pants on. @mariastephanos [10] #mapoli [11]

— RightWingWatch MA (@RWwatchMA) February 19, 2013 [12]
Typical Scott Brown. He intemperately snarked at twitter then pretended he didn't. Personal responsibility woulda made it less hilarious.