CNN ran a story yesterday about a near-forgotten piece of 20th-century African-American history.
Victor Green, a resident of Harlem came up with the idea for a travel book to prevent African-Americans from being "humiliated" (his word) while on the road.
"The Green Book," as it was known, was first published in 1936. Initially, it pointed out friendly restaurants and hotels in New York. It eventually expanded to include everything from lodging and gas stations to tailor shops and doctor's offices across the nation, as well as in Bermuda, Mexico and Canada.
You can find copies of various editions of the book on the Internet. The 1949 edition included shops and restaurants in Boston and other Massachusetts' cities.
Below, names and addresses of several beauty salons, barbers, and "tourist homes" for those visiting the South End. A second column included several Roxbury locales. (Even then, the dividing line between the two neighborhoods was an open question.)
The only place remaining as-is, today, is Charlie's sandwich shop, at 429 Columbus Ave. Estelle's, at 888 Tremont Street, was still around (at least the name on the building) until just a couple years ago.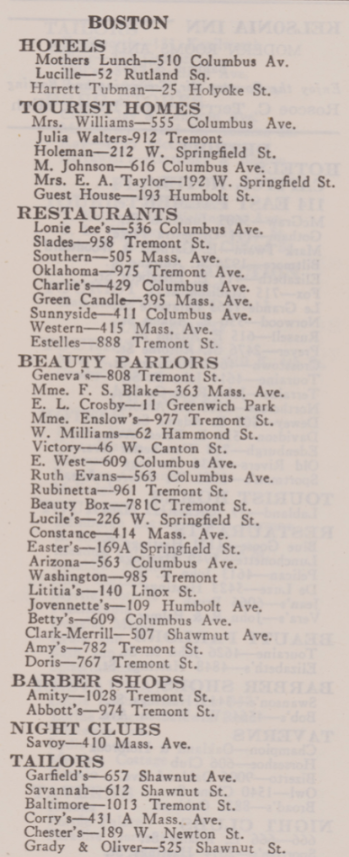 More: Travel guide helped African-Americans navigate tricky times, CNN
Also: The Negro Motorist Green Book, 1949 edition (warning, .pdf)
And: South End jazz: An invisible tradition, Boston - City in Transition (Emerson College)