[float=right]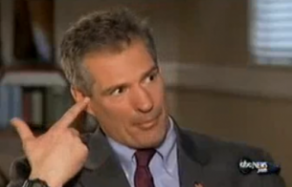 [/float]
On September 7, Republican Scott Brown commented on the new jobs report and claimed he "will be a fighter for jobs." But his record as US Senator says otherwise, which makes me wonder, how does Scott Brown fit into the Republican strategy of obstruction and will the press hold him accountable?
As point of context, we know Republican strategy since January 2010 is to use obstruction to cause President Obama to fail, even if that failure comes at a great cost to the American people. Scott's election in January 2010 made him the 41st Republican in the US Senate, the precise number of votes Republicans needed to block "Up-or-Down votes" as known as "filibuster" legislation. At the time, Republican Senate Minority leader Mitch McConnell dubbed Scott Brown "41". Clearly he saw the political significance of Scott's triumph as he proudly announced that his and Republicans' #1 goal is to make President Obama a one term president. Scott's election enabled this partisan obstruction, as long as Scott brown played along.
To recap, obstruction was the centerpiece of Republican strategy since the day Scott Brown was elected, and it would work so long as Republican Scott Brown played along. Republicans #1 goal was to make Obama a one-term president, not economic recovery.
When Scott Brown joined Republicans to filibuster legislation for partisan obstruction purposes, he clearly was not acting as a moderate independent Republican, which is how he is representing himself on the campaign trail.
I hope the press conducts a thorough analysis of Scott Brown's voting record to consider votes on which he acted in unison with the Republican party to filibuster, for the purpose of harming political opponents, at the expense of creating jobs that help in economic recovery.
Note also that the financial crisis which caused the great recession was avoidable, and that it was caused by Wall Street and not the 8.5 million Americans who lost their jobs, including many who live right here in Massachusetts.
Today's jobs numbers are unacceptable. I will be a fighter for jobs scottbrown.com/2012/09/scott-…#masen

— Scott P. Brown(@ScottBrownMA) September 7, 2012
On June 15, Mathew Helman, a native of Framingham and communications director of ProgressMass wrote about Scott Brown's record in the US Senate on jobs in an article called "Scott Brown is No Job Crusader", which was published on GoLocalWorcester. Here are some of the relevant excerpts:
...Brown's record includes votes against the American Jobs Act of 2011 (S. 1660, Senate Vote #160, 10/11/11), the Rebuild America Jobs Act (S. 1769, Senate Vote 195, 11/3/11), and the Teachers and First Responders Back to Work Act of 2011 (S.1723, Senate Vote 177, 10/20/11). These three bills amounted to an estimated 33,000 jobs at stake for the Commonwealth of Massachusetts, and Brown voted against them all.

It's further expected from Brown given his partisan voting record in the U.S. Senate, putting obstruction and gridlock ahead of problem-solving and getting things done. A study of Brown's actual votes in key situations shows that, over 75% of the time, Brown sides with his right-wing Republican colleagues instead of working toward bipartisan compromise.

We saw this play out in the recent debate over the student loan interest rate. The interest rate is set to double in July from 3.4% to 6.8%, making a college education more expensive for students and families. The U.S. Senate voted on a bill to keep the rate at 3.4%, and the bill had majority support. Unfortunately, right-wing Republicans filibustered the bill, forcing the bill to require 60 votes, rather than 50 votes, for passage. The bill fell short of the 60-vote threshold, with Brown siding with his right-wing colleagues and effectively voting to double the student loan interest rate.

Republican Scott Brown's real record in the U.S. Senate includes slashing summer jobs for teens, voting against over 33,000 jobs for Massachusetts, and voting to double the student loan interest rate. His real record also includes prioritizing partisan gridlock over bipartisan problem-solving. No election-year gimmicks can Etch-A-Sketch that record away.

If Brown ever holds a public town hall forum, voters might have the chance to ask him about these important issues. Unfortunately, since his election to the U.S. Senate, Brown has refused to hold public town hall forums, perhaps to avoid criticism of his partisan record. The "People's Senator" shamefully refuses to meet with "We the People."

Mathew Helman currently serves as Communications Director of ProgressMass. Mathew, a proud product of the Framingham public schools, has spent the last ten years working in Massachusetts government and politics.