[float=right]
[/float] Leave it to the Boston Herald to use the recent tragedy of the Boston Marathon bombing for politics, the politics of transitional assistance also known as welfare. Say what? What does domestic terrorism and welfare have to do with each other?
Well, yesterday the legislature on Beacon Hill was debating a budget and Republicans are, once again, trying to use welfare as a wedge issue. Also yesterday, Chris Cassidy at the Boston Herald broke a front page news story that deceased Boston Marathon bomber Tamerlan Tsarnaev was a welfare recipient. Sounds bad, right?
But as a legal resident with a US citizen wife and US citizen daughter, and an income lower than a certain level, he was qualified to receive the benefit. There is no scandal, there is just conservatives using welfare and the tragedy of the Boston Marathon bombing for politics.
The state's Executive Office of Health and Human Services said the benefits that Tamerlan Tsarnaev had received ended in 2012 when the couple stopped meeting income eligibility limits.
This is not the first year the Boston Herald has tried to put an unpopular face on welfare benefits. [float=right]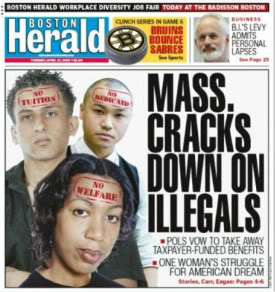 [/float]Sometimes the villains are immigrants, as in this Herald cover from House budget debate week in 2010.
From villainizing immigrants to exploiting the Boston Marathon bombing, conservatives resort to the same playbook of putting an unpopular face on programs they like to exploit for political advantage.