No bar is too low for Paul Craney
[float=right]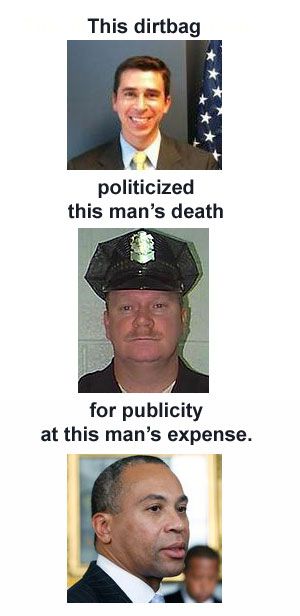 [/float]
Paul Craney is a movement conservative who created a "non-partisan" "non-profit" lobbying organization and appointed himself director. He drinks a lot of coffee with potential secret donors, and tells people on twitter about it when he's driving to and from meetings. He also tweets about the Governor's calendar.
Today, Paul Craney succeeded in feeding a story to a journalist at MassLive.com that got Paul Craney publicity by exploiting the death of Springfield Officer Kevin Ambrose in a bid to make Governor Deval Patrick look like an asshole.
Paul Craney criticizes Governor Patrick for "avoiding the wake of fallen Springfield Police Officer Kevin Ambrose to visit a New York City 1199 SEIU Union reception." Craney points out the Governor will be in New York Thursday at the time of Officer Ambrose's wake in Springfield, insinuating that the Governor's priorities are wrong or that he's a heartless prig, when in fact the Governor is attending Officer Kevin Ambrose's funeral Friday.
I think the bid to score cheap political points, using the tragedy of Officer Ambrose's death, backfires on Paul Craney and makes him look like the asshole. What do you think?
SPRINGFIELD — The daily schedule for Gov. Deval L. Patrick indicates he'll be in New York City late Thursday afternoon, which means he won't be attending today's wake for slain Springfield Police Officer Kevin Ambrose.
Ad: