World Cup Lacrosse Championship host nation Great Britain kicks Iroquois Nation to the curb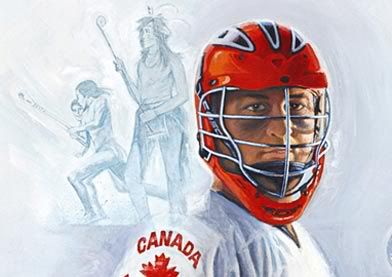 Photo credit CBC Sports 2006
That the Iroquois Nation could not get a visa to travel to the FIL Lacrosse World Cup in Manchester, England is clearly a great failure of the Great Britian's consulate. And it's too bad the US State Department and Canada could not do more to pave the way: Don't they know sports can be a path to mutual respect and cooperation? Not for nothing but don't they know American Indians invented the frigging game?
RTAmerica news covered the story here, video.
Team USA has a good chance to win the World Cup this year, even though they suffered a one goal loss against defending 2006 Lacrosse World Cup champion Team Canada in round robin play. Both USA and Canada will advance to the playoff round. Megan Robinson, for NLL.com says:
Tuesday was the final day of round-robin play at FIL World Lacrosse Championships in Manchester, England. Both Canada (5-0) and USA (4-1) will advance to the playoff round. Team USA beat Japan, 19-5, while Canada defeated England, 17-6.
Boston boasts five Boston Cannon players on Team USA:
A Ryan Boyle - Boston Cannons (Princeton '04)
D Ryan McClay – Boston Cannons (Cornell '03)
D Kyle Sweeney – Boston Cannons (Georgetown '03)
M Kevin Cassese – Boston Cannons (Duke '03)
M Paul Rabil – Boston Cannons (Johns Hopkins '08)
Since the Iroquois Nation was sidelined, Rachel Maddow has challenged Team USA to a game against Iroquois Nation. Here's Rachel's rant:
Visit msnbc.com for breaking news, world news, and news about the economy
Here are some highlight video from round robin play: Day1 Day2 Day3 Day4 Day5
The final game, the game for the world championship, will be broadcast on ESPN July 24.
Ad: