comedy
Reserve your tickets at [email protected]!
tingleflyer by w19, on Flickr
OK, Hilary Swank and Jeremy Renner weren't bad, but most actors who try their hand at the Boston accent stink. Can non-native passersby do a better job? I made this video to find out.
For Immediate Release
CONTACT:
Emma Lathan
(617) 470-9556
[email protected]
@Unarrator
UNRELIABLE NARRATOR THEATER GROUP DEBUTS CYBERPUNK MUSICAL COMEDY ENTITLED 2010: OUR HIDEOUS FUTURE: THE MUSICAL!
BOSTON, MA--July 23, 2010--Unreliable Narrator in collaboration with The Pluto Tapes presents 2010: Our Hideous Future: The Musical!, a cyberpunk musical comedy that will be staged Friday, August 20 through Saturday, August 28 at the Boston Playwrights' Theatre located at 949 Commonwealth Avenue,
Boston MA 02215.
It's A.D. 2010, East Coast Metro Zone A, New Malden, a time of techno-studded blechhiness. Lonely human freedom fighter Kate Brick plans a last stand against the oppressive Artas, artificial life forms who control humankind through torture, brainwashing, and Facebook. But judging by the apathy of her lover Dehnise Compuserve and of her fellow humans, it may be too late.
2010: Our Hideous Future: The Musical! features Kamela Dolinova, Emily Taradash, Julia Lunetta, Timothy Hoover, John Deschene, Kay Coughlin, Katie Drexel, Ginger Lazarus, and Will Todisco.
Unreliable Narrator Theater Group announces UN-Vaudeville, a showcase of independent artists from the comedy, music, theater, and burlesque scenes of the Greater Boston area. It's happening Tuesday, March 30 at 8 PM at Johnny D's in Davis Square for a $10 cover.
This spectacular evening will be hosted by K'Tharr, an interstellar warrior-bunny last seen in 2009's production of "Paranormal." It is a fundraiser for the next Unreliable Narrator production, a sci-fi musical comedy in August. In addition to scenes from the August show, "UN-Vaudeville" will include:
Total COMEDY:
By adamg - 4/24/09 - 4:05 pm
Wicked Local West Roxbury reports that City Councilor John Tobin (West Roxbury and Jamaica Plain) is, with a partner, opening a comedy club at the Charles Playhouse.
The Boston Firefly Project is a local Amnesty International chapter of young professionals that provides opportunities for grassroots human rights advocacy, education and networking through community-based events in the Boston area.

Join us and support local human rights work with a comedy fundraiser at the Improv Asylum on Friday, February 6 at 8pm!
Call the Box Office and use code word "Firefly" when purchasing your $20 ticket and the BFP will receive 50% of the profits! To order your tickets, call (617) 263-6887.
[float=right]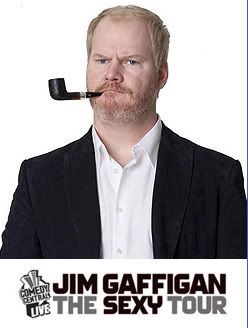 [/float]Bostonist Tom Lewis works out the new calculus for comedian Jim Gaffigan's sold out stand up show this weekend at the Berklee Performance Center:
[size=20][center]Jim Gaffigan @ Berklee = Hilarious[/size][/center]
There's a political comedy show election weekend in the South End which I wrote much of; it's only $9. Here's the information:
>>If you're ready for the election to just end, join "Schmolitics" for some pre-votin' comedy. One weekend only, Thursday October 30 through Saturday November 1 at 8 PM at the Factory Theatre for the low, low price of $9.
Legal Sea Food has launched an online animated clip showcasing the stars of their raw bar:
The show will be a reality comedy contest where local New England comics will compete to determine who is the funniest comic in New England. How will we determine the winner? Simple. We won't. You will by voting on our web site (www.ruwickedfunny.com) for who you like the best each week. The show will be videotaped in comedy clubs all over New England and this is your chance to be in a live TV audience! Do you want to be on tv?