Upper Crust
By adamg - 4/25/13 - 12:54 pm
By adamg - 2/16/13 - 3:44 pm
Bit of an editing war going on on the people's encyclopedia about the local once-and-future pizza chain: The current owners of the name keep trying to delete references to past Labor Department investigations into the chain's treatment of immigrant workers and Wikipedians keep putting them back in.
Here's the entire Upper Crust entry you would have seen at 5:39 p.m. yesterday, after somebody claiming to be from the current ownership was done editing:
By adamg - 1/23/13 - 7:34 am
The Crimson reports on the impending name change for the soon-to-re-open Upper Crust there as the Just Crust, to reflect its new status as being owned by employees.
By adamg - 12/20/12 - 7:38 am
The Boston Business Journal reports the winner of bidding for four of the ten closed Upper Crust pizza places is a group working with Jordan Tobins, the co-founder of the chain who was kicked out by the other owners as the whole thing was falling apart. Pizzeria Regina got first dibs on the chain's former Fenway location.
By adamg - 11/15/12 - 6:04 am
By adamg - 11/13/12 - 8:04 pm
Pesky bankruptcy and all that. But the West Roxbury Upper Crust remains open - it's a franchise owned by a West Roxbury family, not the battlin' chain owners.
By adamg - 10/9/12 - 7:01 am
[float=right]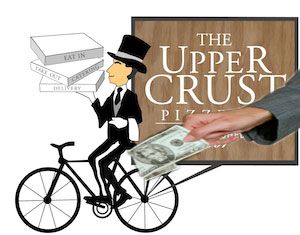 [/float]The Boston Globe:
By adamg - 6/24/11 - 9:27 am
The federal Department of Labor announced yesterday the Upper Crust Pizzeria chain will pay $81,000 in back wages and penalties to 11 kitchen workers it had improperly classified as exempt from federal overtime regulations.
"The Labor Department will not allow employers like The Upper Crust Pizzeria to violate the law and deprive vulnerable, low-wage restaurant workers of their rightful wages," said Carlos Matos, assistant director of the Wage and Hour Division's Boston District Office, which investigated the case.
By adamg - 12/28/10 - 1:59 pm
By adamg - 12/21/10 - 6:49 pm
Adam Castiglioni alerts us to the latest salvo against the Upper Crust chain - a federal lawsuit by Patrick Joyce, who says he quit in disgust over the way owner Jordan Tobins was treating his illegal-alien workers only to have Tobins dock his final pay and threaten him.
By adamg - 12/7/10 - 2:29 pm
A West Roxbury resident forwards the note she got when she expressed her concern about that Globe story to the folks at the Upper Crust on Centre Street:
By adamg - 12/5/10 - 1:55 pm