Stephen Lynch ends Ted Kennedy's dream... for a generation
[float=right]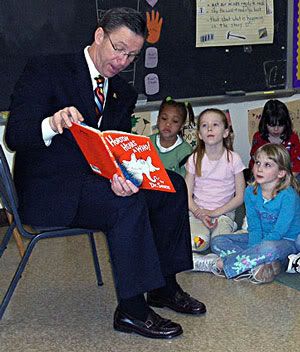 [size=9]After Congressman Lynch finishes reading Horton Hears A Who! ,
he's going to explain to the kids about pre-existing conditions and why
their parents can't buy them health insurance[/size][/float]
Washington (CNN) - A personal meeting with the president hasn't persuaded him. Conversations with party leaders hasn't changed his mind either.
But Massachusetts Rep. Stephen Lynch's stance against the health care legislation has even withstood the invocation of his state's patron saint of politics: Sen. Ted Kennedy.
A few days ago Lynch received a phone call from Vicki Kennedy, the widow of the late senator, who implored him to support the health care legislation despite any misgivings he has with the bill.
"She said Ted had worked at this for quite some time and invoked his memory," Lynch told CNN. "[It was the] same kind of conversation I had with the president: the strengths of the bills, the shortfalls, but that we have to do something."
Ad:
Like the job UHub is doing? Consider a contribution. Thanks!