[float=right]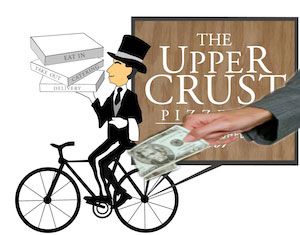 [/float]The Boston Globe:
Upper Crust accused of scheming on pay
Affidavit from CFO claims checks forged, pay slashed

After being ordered by the government to pay employees nearly $350,000 in overtime, executives at Upper Crust devised a scheme to wrest the money back, including cashing forged checks and slashing workers' wages, according to the pizza chain's former chief financial officer.
Make a deal with Upper Crust Pizza: If they pay their employees fair wages including overtime (thereby following the law), then you'll patronize their business. To tell them tweet this article.
As per usual, they who stand accused are not liable until proven in a court of law on a preponderance of the evidence.